Imports of HDPE were 9.1 million tons in 2020, up 14% from the prior year; linear polymer as EAOC, 6.7 million tons, up 17%; LDPE, 3.4 million tons, down 1%; and EVA, 1.0 million tons, down 3%. Much higher volumes from North America and Eastern Europe and little growth in supplies from the Middle East were striking trends.
China recovered rapidly from the pandemic and imports of ethylene polymers were at a new record by June of 2020. Volume continued high through the third quarter but slowed during the fourth, a period which generally sees a surge in imports in advance of the downturn in manufacturing due to Chinese New Year (February 12, 2021). A shortage of containers likely contributed to the decline in volume and the rise in prices, which averaged $1096/ton in December.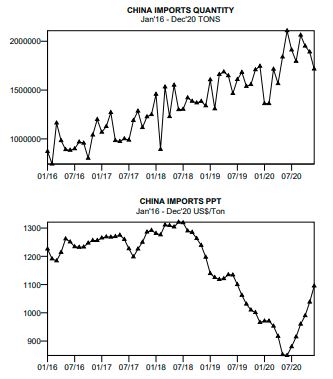 Although China's imports in total increased substantially, supplies from the Middle East were up only 1%, to 9.2 million tons. Less polymer was brought in from Saudi Arabia, Iran, and Qatar but supplies from UAE posted a strong gain.
Asia-Pacific sources provided 8.2 million tons, up 7%. Imports from North America (US and Canada) jumped 65%, to 1.8 million tons. Imports from Eastern Europe (mainly Russia), soared 204%, to 1.1 million tons.
From International Trader Publications' China Polymer Trade Report, a monthly analysis of China's trade in all commodity polymers, recycle polymers and key fabricated plastic products.