China manufactures countless plastic products. Trade in some of these products can be identified by specific polymers while other products are made from a number of polymers and fall into groups defined by end uses. Exports of these products combined totaled 13.9 million tons in 2020, up 10% from 2019. The pandemic created strong demand for PPP related products, packaging, household items and builders' materials.
Exports started ramping up after February and continued through yearend, with shipments in both November and December at a new high. As visible from the graph, exports have historically risen at yearend in advance of the Chinese New Year holiday, during which manufacturing and exports slow.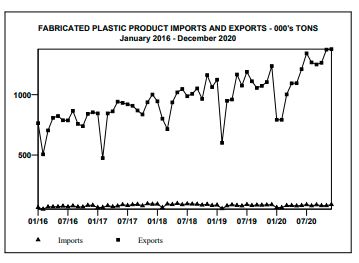 Products for which exports rose to new highs in the last quarter included: film and sheet from polyethylene, polystyrene and PVC; polypropylene bags and sacks; PVC floor and wall coverings; boxes, crates and other packaging materials; buckets and pails; kitchenware; other household items and furnishings; and builders' wares, such as tanks, doors, windows, shutters, gutters and many others.
From International Trader Publications' China Polymer Trade Report, a monthly analysis of China's imports and exports of all commodity polymers, recyclable polymers, and fabricated plastic products.