Higher volumes were imported from Asia-Pacific, 4.9 million tons, up 24%, the Middle East, 1.4 million tons, up 26%, as well as all other regions. Average prices soared from August through December, reaching $1190/ton.
China's highest volume and growth import sources included South Korea, Taiwan, UAE, Saudi Arabia, Thailand, India, Japan, Malaysia and Vietnam.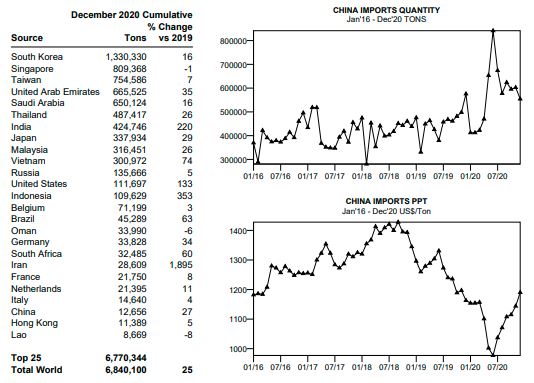 Imports were slow through the first quarter with the pandemic superimposed on Chinese New Year, but as the virus came under more control and demand for goods manufactured from PP increased both domestically and abroad, imports peaked in June at a new record 850,000 tons. Volumes then slowed, steadied around 600,000 tons per month from August through November, but fell to 554,000 tons in December.
The decline at year end was unusual, given that December has traditionally been a strong month for imports each year since at least December 2016, as buyers ramped up production in advance of each Chinese New Year, which, in 2021, is February 12th. Rising freight rates, container shortages, and slowing demand are likely considerations.
From International Trader Publications' China Polymer Trade Report, a monthly analysis of China's trade in commodity polymers, recycle polymers and key fabricated plastic products.