After nearly a year of low volumes, China's imports of virgin commodity polymers posted a small increase in March. Exports of PVC and PET exports surged. Shipments of fabricated plastic products rebounded modestly after the Chinese New Year slowdown. These flows were likely impacted by Covid-related lockdowns, the effects of which on demand and production are expected to continue for some months to come.
China imported 6.4 million tons of commodity polymers through March 2022, down 16% from first quarter 2021. Although imports of nearly every polymer grade of PE, PP, PS, PVC and PET were up in March, imports of ethylene polymers, 4.2 million tons, down 15%, accounted for two-thirds of the total volume YTD and most of the increase in March.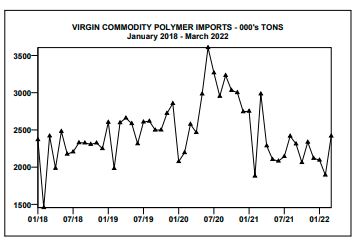 China's exports of commodity polymers showed unusually wide swings over the last year. Through March 2022, China exported 2.4 million tons of commodity polymers, up 15% from first quarter 2021. PET exports were 1.2 million tons of the total, up 15%; PVC was 0.6 million tons, down 2%.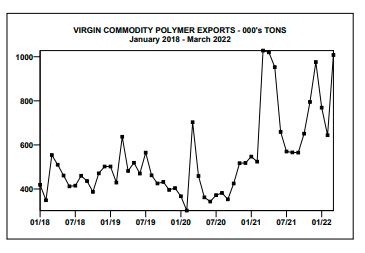 China exported 3.9 million tons of products fabricated from plastics through March, up 12%. These products consist of film/sheet, polyolefin bags, PVC floor/wall coverings and a wide assortment of household and industrial items. Shipments hit a new high in January 2022, dropped during the holiday in February, and partially rebounded in March.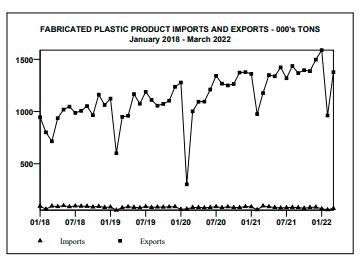 From International Trader Publications' China Polymer Trade Report, a monthly analysis of China's trade in all grades of polymers of ethylene, propylene, styrene, VCM and PET, recyclable polymers and fabricated plastic products.