Trade volume by year end is projected at 22 million tons, down 2% from 2018 based on the latest statistics from 50 countries. This compared with an 11% gain in global trade volume in 2018 versus 2017. Prominent trends in 2019 include a drop in Asia-Pacific intra-regional trade, increased exports from the Middle East, and lower shipments from North America.
The 6% decline in trade volume projected within the Asia-Pacific region partly reflects a slowdown in China's imports of p-xylene, with the startup of new capacity (see blog by Christiana Fierro, August 23,2019). YTD through September, China imported 11.3 million tons, down 2%. Imports from Korea, Japan, Taiwan, Singapore and Thailand were down, but China imported higher volumes from india, Saudi Arabia and Vietnam.
New capacity in India has had China as a growth export destination, but shipments to most other markets are down as of September, 2019.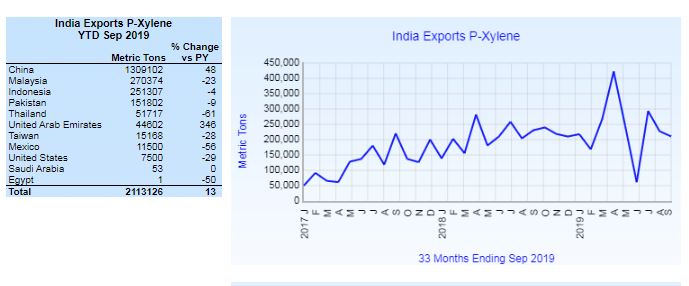 Middle East Exports are projected to be up by 15%, to 2.7 million tons, on higher volumes to Asia-Pacific and Western Europe.
North America's exports are projected down 13% for the year, to 1.1 million tons, on a small decline to Latin America and steeper declines to Western Europe and Asia-Pacific.
By Jean J. Sudol, data from the P-Xylene World Trade Report, a continuously updated online analysis of global p-xylene trade.