The volume of recycle polyethylene traded globally in 2015 was 6 million tons, down 11% from the prior year. Through October 2016, global trade volume was down 18%.
Imports of recycle polyethylene into China totaled 3.6 million tons in 2015, down 19%, and accounted for more than half of the world's trade volume in that year. There has been a downward trend in China's imports for over two years, with volume through October 2016 down 31%, to 2.1 million tons.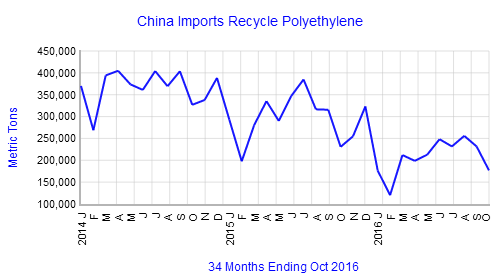 Other Asia-Pacific countries supply about 43% of China's recycle PE imports; Western Europe about 40%; the United States, 12%.
Average prices of recycle PE collapsed at the beginning of 2015 and have remained at record low levels. China's average price in October 2016 was $540/ton.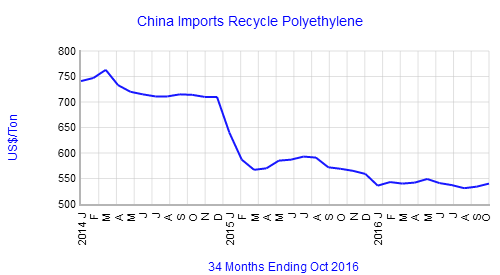 From: International Trader Publications: Recycle Polyethylene World Trade Report