The United States exported 966,000 tons of ethylene polymers in March, 2022, an increase of 160,000 tons over February. Shipments of every PE grade were up in March. Further increases are likely with startup of new capacity.
Year to date through March, US exported a total of 2.6 million tons of ethylene polymers, down 3% from first quarter 2021 despite a strong March. Among the top ten volume destinations, exports were up versus the prior year to: Mexico; Canada; Belgium; Colombia; Spain; Turkey. Exports declined to: China; Brazil; Malaysia; Singapore.
The availability of new US capacity, weak demand in China, and the loss of Russian PE supplies into Europe as a consequence of the war in Ukraine, point toward increased flows from the US to Europe in coming months.
US exports of ethylene polymers March 2022 YTD: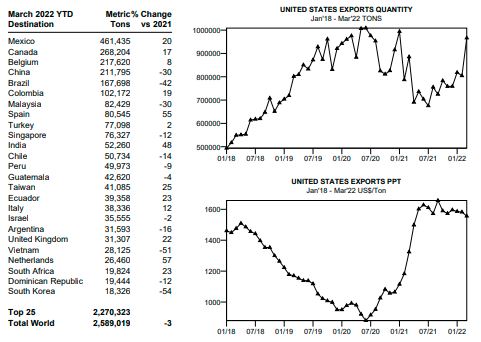 From International Trader Publications' United States Polymer Trade Report a monthly report analyzing US imports and exports of all polymer grades of PE, PP, PS, PVC, PET, recyclable polymers, and fabricated plastic products.