China exported 245,000 tons of polypropylene homopolymer in March, 2021, roughly ten times the volume exported in prior months.
India, Turkey, Vietnam, Pakistan and Brazil were leading destinations in March, followed by many others, mainly in Latin America and Asia-Pacific. The average export price in March was $1369/ton.
Through first quarter 2021, China exported 319,000 tons, up 171% from first quarter 2020. New capacity on stream in 2021 is expected to further raise exports and reduce imports in coming months.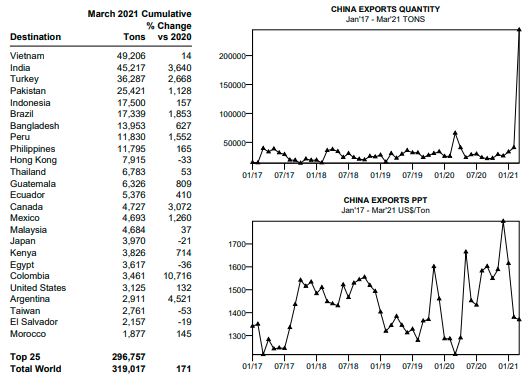 China's imports picked up in March to 308,000 tons, following a slowdown due to the New Year holiday. The average price continued a strong upward trend, reaching $1245/ton in March. YTD, imports totaled 840,000 tons, up 5% from Covid-depressed levels in the prior year. South Korea, Saudi Arabia, Singapore, UAE and Japan were leading suppliers.
From International Trader Publications' China Polymer Trade Report, a monthly analysis of China's trade in commodity polymers, recycle polymers and fabricated plastic products.