Much higher propylene monomer exports from both North America and Western Europe to Latin America were among the trends visible in global propylene trade through March, 2016.
In 2015, Latin America imported 280,000 tons of propylene monomer, up nearly 200% from 2014. North America supplied about 80% of the total, with the remainder sourced roughly equally from Asia-Pacific and Western Europe. Mexico and Colombia were the leading growth markets. Leading suppliers: US, Spain, Italy, Netherlands, Taiwan and Japan.
Much higher propylene imports into Latin America were also evident through first quarter 2016, North America and Western Europe top suppliers.
The trend in propylene exports from North America over the last 24 months is visible below: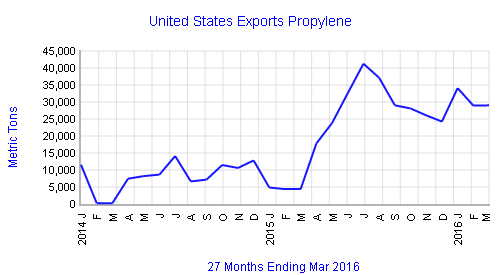 From: International Trader Publications' World Trade Reports on ethylene and propylene. For a free trial contact: itp@itpweb.com