After more than a year of inactivity, the United States began exporting ethylene in May, 2015, and shipments since then have averaged roughly 15,000 tons per month.
Exports in 2015 totaled 146,000 tons, up from negligible volumes in 2014, and shipments through first quarter 2016 were 67,000 tons. Taiwan, Belgium and China were the top three destinations for US exports in 2015 as well as through March, 2016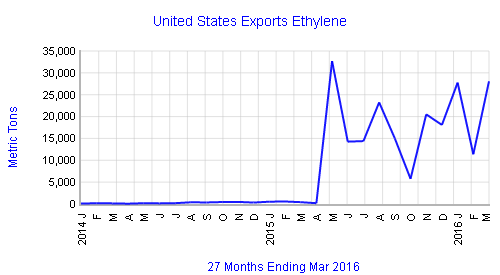 .
The vast majority of ethylene is produced and consumed domestically, but significant volumes, 6.9 million tons, up 14%, were also traded globally in 2015, most of this as trade within Western Europe and Asia-Pacific.  Exports out of the Middle East were 167,000 tons, down 71% on sharply lower volumes to Asia-Pacific and both Western and Eastern Europe. Western Europe exported 166,000 tons to other regions, the decline of 41% due mainly to reduced shipments to Asia-Pacific. North America shipped 145,000 tons and jumped into third place as an exporting region, on roughly 65,000 tons each to Asia-Pacific and Western Europe and 11,000 tons to Latin America.
From: International Trader Publications' Ethylene World Trade Report. For a free trial contact: itp@itpweb.com