The need for PMMA film and sheet in personal protective equipment resulted in a stunning surge in imports into countries all over the globe during the April – August 2020 period, and also record exports from several.
New record highs were reported on imports into, among others: Australia, Austria, Canada, Chile, France, Germany, Hungary, Italy, Japan, Latvia, Lithuania, Malaysia, Mexico, Netherlands, Norway, Peru, Philippines, Poland, Portugal, Romania, Spain, Sweden, Great Britain, United States and Uruguay.
The United States was the world's largest importer, with 68,000 tons through August, up 63%. Many countries showed the same steep rise in volume and price declines as did the US: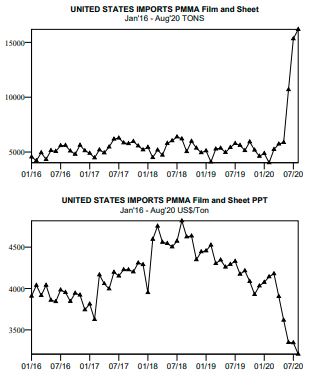 Exports out of Brazil, China, Indonesia, Mexico, Russia, Taiwan and Turkey also shot to new highs. China was, by far, the largest exporter, with 88,000 tons through August, up 101%. The average price picked up from June through August: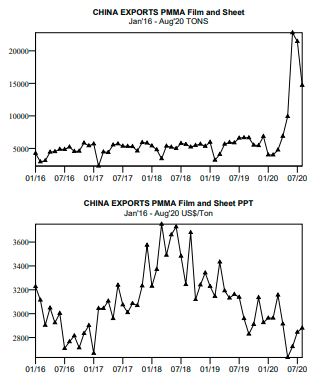 The jump in trade because of Covid-19 is projected to result in a 10% increase in global trade volume of PMMA film and sheet by year-end 2020 versus the prior year, to 660,000 tons.
From International Trader Publications' PMMA Film and Sheet World Trade Report, a continuously updated analysis of PMMA film and sheet world trade, based on statistics from the 100 countries in ITP's database.