Thailand exported 5.4 million tons of commodity polymers in 2018, up 16% from 2017. The country became an important new market for recycle polymers, imports of which nearly quadrupled in 2018, to 553,000 tons. Sizable volumes of fabricated plastic products, 663,000 tons, up 8%, were exported to Asia-Pacific and North America.
Thailand shipped 2.9 million tons of ethylene polymers in 2018, up 13% from the prior year. Propylene polymer exports were 1.1 million tons, up 26%. Asia-Pacific was by far the largest export destination, with less than 10% of the total shipped to other regions, the next largest volume going to Africa. Although exports of styrenic polymers were smaller, 516,000 tons, they showed the highest percentage increase, up 39% on polymer shipped almost entirely to Asia-Pacific.
PET was the leading recycle polymer import into Thailand, 384,000 tons, up 187%. Over 90% of this was from Asia-Pacific, most of the rest from North America. There was a surge in R-PET imports in the first half of the year, after which volume eased: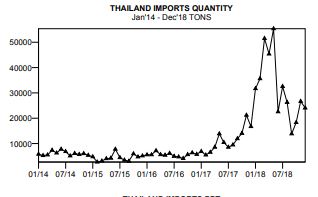 Recycle polyethylene imports were 168,000 tons, up from minor volumes in the prior year, polymer also mainly from Asia-Pacific, followed by North America.

Thailand exported 380,000 tons of PE film/sheet and PE bags/sacks in 2018. Asia-Pacific was the largest export destination but over 100,000 tons was shipped to North America.
From International Trader Publications' 2018 Thailand Polymer Trade Report, a 50-page online publication based on statistics from Thailand and analyzing Thailand's trade in commodity polymers, recycle polymers and fabricated plastic products.