An important trend since March 2016 has been record exports of polymers from China. Exports of PVC surged in March and continued high through August, as did exports of PET. Shipments of polyolefins were heavy from March through June/July, but slowed in August.
Exports of uncompounded PVC through August 2016 totaled 843,000 tons, up 57% from the prior year on greatly increased shipments to India, Malaysia, Russia, Thailand, Vietnam and others.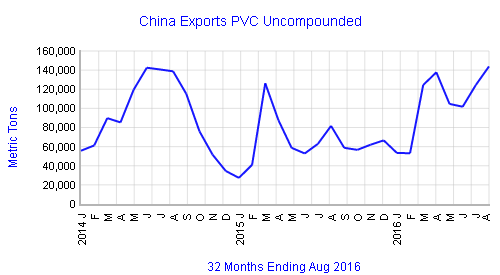 Exports of PET were 1.4 million tons through August, up 16% on gains to top destinations Japan, Indonesia, Philippines, Russia, Chile, Ukraine and others.
China's exports of polypropylene homopolymer set new records in the second quarter of 2016 and totaled 176,000 tons through August, up 68%, although noting a downward trend in shipments in July and August.
Exports of ethylene polymers were 395,000 tons through August, up 14%.
From International Trader Publications' China Polymer Trade Report. For more information contact ITP@ITPweb.com.