Over the period 2011 to 2020 there has been a dramatic drop in Western Europe's total exports to other regions, an increase in exports to Eastern Europe which only partially compensated for much lower volumes to Asia-Pacific, and, increased trade within the region.
Recyclable polyethylene is industrial or post-consumer waste, parings and scrap that can be identified as polyethylene but must be further processed before it can be used to make products.
Western Europe's exports of RPE to other regions were a high for the period of 2.1 million tons in 2012. Shipments fell sharply in 2018 when China banned imports. Exports in 2020 totaled 892,000 tons, 42% of the high.
Intraregional trade expanded from roughly 700,000 tons per year from 2011 through 2015, to over 800,000 tons per year from 2016 forward.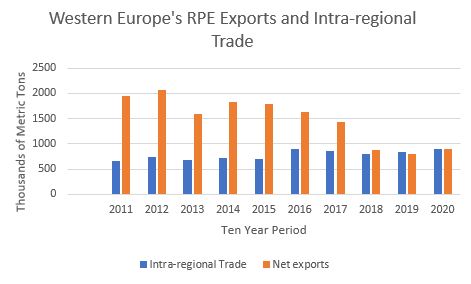 Exports to Asia-Pacific were 356,000 tons in 2020, 18% of the high of 2.0 million tons reached in 2012. Volumes to Eastern Europe in 2020, 526,000 tons, exceeded those to Asia-Pacific.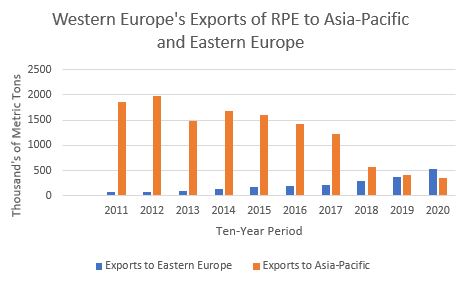 From International Trader Publications' Recyclable Polyethylene World Trade Analysis, a continuously updated analysis of trade between countries and regions based on ITP's database of 100 countries.