US exports of recyclable polymers fell from nearly 2 million tons in 2016 to 624,000 tons in 2020. The rate of decline slowed from 2018 through 2020 but new US government initiatives to cut greenhouse gases and reduce plastic waste may have an impact.
Recyclable polymers are polymers from post-consumer and industrial waste, and parings and scrap, that are identifiable by type and can be further processed into usable products. Graphed below are US exports for four main groups: polyethylene, PET, PVC, and the aggregated category containing PP, PS and other polymers.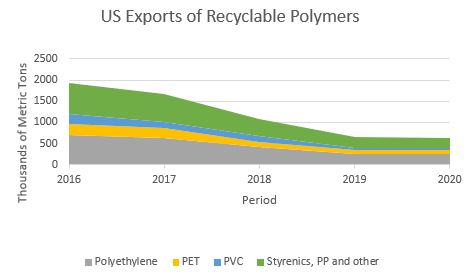 Export destinations vary by polymer. US exports recyclable polyethylene to many destinations, headed by Malaysia, Vietnam, Canada, Indonesia, Hong Kong and Turkey.
Mexico is the top destination for PET, accounting for about 20% of the total.
More than half of US exports of PVC go to Malaysia.
Exports of the aggregated category containing styrenics, PP and other polymers go primarily to Canada (57%), followed by many smaller volume destinations.
From International Trader Publication's US Polymer Trade Report, a monthly analysis of US trade in commodity polymers, recyclable polymers and fabricated plastic products.